I love shopping. Especially for weddings. And becoz I don't have any brothers or sisters, I have never been involved in any major wedding shopping sprees apart from my own ( at the time of which I was more concerned about my exams and schedules than shopping). So imagine my glee now that I have to go wedding shopping for my one and only brother in law (who is getting married to a lovely girl on October 1st). I must admit that going shopping with an enthusiastic but clueless would-be groom can be a bit trying.
"Bhabhi, shall I buy this cream?" "Shyu haven't u bought 15 bottles of cream already?"
"Bhabhi, does this deo smell good?" "But you don't use deo spray" "well I could use it, couldn't I?"
You see what I mean? But hey, I will stop pretending that I'm annoyed. I actually do secretly enjoy my position of power as the eldest daughter-in-law of a closely-knit family. And also, I love both Arfaz's brother and sister to pieces. Partly because I don't have any of my own and partly because they both are so loveable. So for the shopping spree I took Arfaz and my brother-in-law Shiyaz (see the rhyming) to Naif Souq- colloquially called Oot market. Do you know why it's called so? Because several years ago, food for camels- which is Oont in Hindi- was sold in this Souq. This place has been my shopping haven for as long as I can remember. Clothes, shoes, bags, toys, whatever you want, you get it here- at reasonable prices. And then of course there is the haggling. Haggling is a refined skill that you sharpen over years of shopping. My dad and Arfaz are pros at it. I'm just average. My mom's hopeless. So I usually like to go with Arfaz because he just manages to squeeze out the best deals.
On this shopping expedition first we headed off to buy some clothes. Vibrant colors, distinctive textures, variety of styles and different cuts. Had so much of choice
Then perfumes. Attar, oud, CK, Gucci- name it and they have it. A few weeks ago, I interviewed perfume expert Charlotte Mathesen from Lush. She told me that every person should have a fragrance suited to their personality. So people should try on a perfume, walk around with it, sleep on it and see if they like it. The smell apparently changes every minute after wearing it. So you should really see if this is the smell you would like to live with and then go and buy it. Never rush into it. But ofcourse we couldn't be bothered with all that hassle
Then of course how could anyone go home without buying some toys for the queen bee of the house????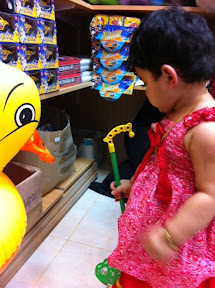 And then the mandatory tea and shawarma from the roadside joint. Just look at the table fan, the drum...everything about it is soooo cool. And I must admit, the shawarma tasted better than anything I have eaten from anywhere else in the UAE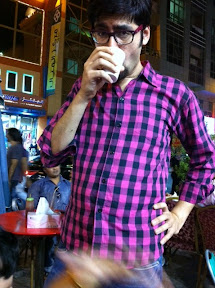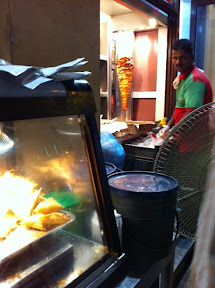 At the end of the trip, we had to wait for an hour just to get out of our parking lot. I was so frustrated that I couldn't be bothered to take pics. But then hey, kuch paane ke liye, kuch khona padtha hai (to win some, you gotta lose some)
Chao until next time…
- Posted using BlogPress from my iPad
Location:Naif Souq